Digital Cognitive Health Platform Drives Better Care and Additional Revenue for Major Health System
Dementia presents a significant challenge for patients, providers, health systems in the U.S. The disease is 50% more costly than heart disease or cancer. A patient with dementia costs 3x more than one without. And with 5.8 million Americans already diagnosed and 50 million more at risk, caring for these patients will put tremendous pressure on the nation's 250,000 primary care physicians and 15,000 neurologists.1
Early detection and management  for Alzheimer's Disease–related dementias could reduce the costs by as much as 25%. But while the benefits of early detection and widely held beliefs that regular cognitive assessments are important, just 50% of seniors have received even the most basic assessment, and only 16% receive regular monitoring assessments.
2
Study Demonstrates Ways BrainCheck Benefits Providers in Health Systems
BrainCheck conducted a pilot study with Hartford Healthcare to measure the platform's ability to improve care and reduce costs. Four providers (representing primary care, geriatrics and neurology), administered 60 cognitive assessments using the platform, demonstrating:
Excellent System Usability Score
With an even split between in-clinic and remote cognitive assessments, BrainCheck received an average system usability score of 85 from providers, which is considerably higher than the industry average of 68 and puts the platform in the 95th percentile for software products. And 80% of patients said they were satisfied with their experience despite the fact that many were diagnosed with dementia.
Added Diagnostic Confidence
Following administration of BrainCheck, the providers at Hartford Healthcare saw an increase in triggering of appropriate further work up in both laboratory tests and imaging — 83% and 50% increases respectively.
Increased Specificity of Diagnosis
BrainCheck increased the specificity of diagnosis from 28% specific prior to using Braincheck to 68% specific with BrainCheck. BrainCheck gives physicians the ability to distinguish dementia from other treatable conditions and offer reassurance to those with subjective memory loss.
Improved Cognitive Care Management
After BrainCheck, two thirds of patients received a plan of care. For patients who did not receive a cognitive care plan, most had a rationale (subjective memory loss, "not dementia," "no cognitive impairment," anxiety). Only three patients failed to receive a plan of care without a reason.
Medicare and Insurance Reimbursement
More than 90% of processed claims were reimbursed by Medicare and private insurers for the recommended codes: CPT 96138 for test administration by a technician and CPT 96132 for test interpretation.
"We have an imperative to screen for and identify cognitive impairment."
— Dr. Robert Dicks | Chief of Geriatric Medicine, Hartford Hospital
BrainCheck helps providers and health systems offer a new standard of care.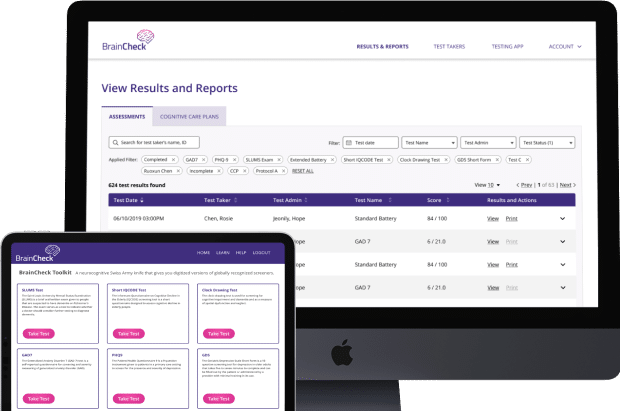 Source: Livingston, MD; et al. "Dementia prevention, intervention, and care." The Lancet Commissions. 2017; 390(10113):2673–2734.
DISCLAIMER: The information provided in this document was obtained from third-party sources and is subject to change without notice as a result of changes in reimbursement laws, regulations, rules, and policies. All content on this document is informational only, general in nature, and does not cover all situations or all payers' rules and policies. This content is not intended to instruct medical providers on how to use or bill for healthcare procedures, including new technologies outside of Medicare national guidelines. A determination of medical necessity is a prerequisite that BrainCheck, Inc. assumes will have been made prior to assigning codes or requesting payments. Medical providers should consult with appropriate payers, including Medicare fiscal intermediaries and carriers, for specific information on proper coding, billing, and payment levels for healthcare procedures. This information represents no promise or guarantee by BrainCheck, Inc. concerning coverage, coding, billing, and payment levels. BrainCheck, Inc. specifically disclaims liability or responsibility for the results or consequences of any actions taken in reliance on this information.