Clinical Decision Support
BrainCheck gives providers an objective measure of their patients' cognitive health. Clinically validated in a number of studies, our algorithms instantly provide scores for overall and domain-level performance. And our detailed clinical reports offer additional insight to providers, supporting their diagnostic decisions.
Get Comprehensive and Domain-Specific Insight
BrainCheck CQ™ Composite Score​
The BrainCheck CQ™ composite score provides an overall view of patients' cognitive health using a patented algorithm based on our extensive research into each assessment. Using scaled and weighted assessment scores, BrainCheck CQ™ scores range from 0 to 200. ​
Individual Cognitive Domain Scores​
In addition to the composite score, the platform offers insight from individual scores for each assessment, mapping specific cognitive impairments to areas where patients are likely to struggle with activities of daily living.​
BrainCheck CQ™ Composite Score
Gain Perspective from Established Baselines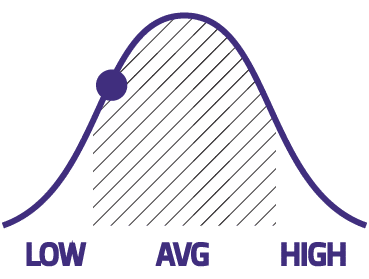 Scored Based on Normative Data
Both the composite score and the individual domain scores use BrainCheck's normative database, which accounts for scoring differences based on a patient's age and sex, as well as the device used for the assessment.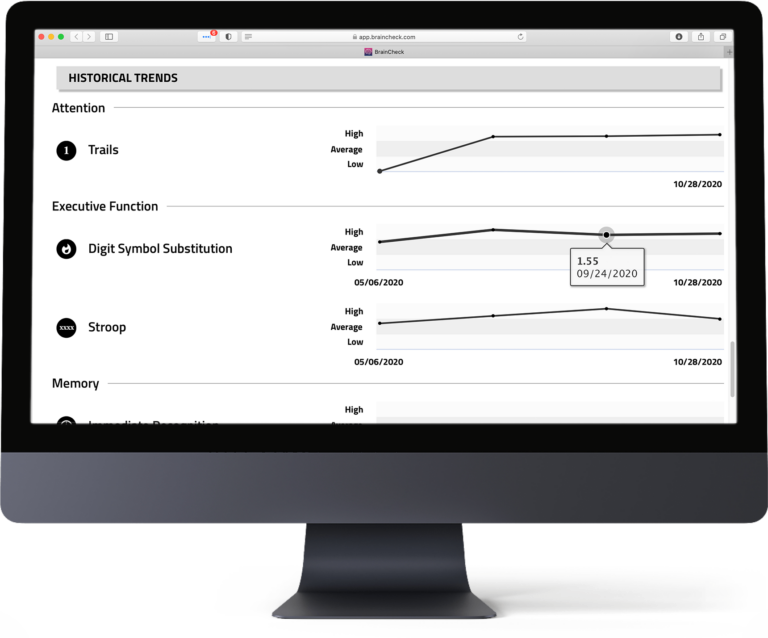 Tracks Patient Performance
The BrainCheck platform offers additional context to providers by tracking assessment history. Comparing scores over time — overall and for each domain — offers helpful data that can be used to determine how cognitive function has changed, how interventions have performed, and more.
Review Detailed Reports and Recommendations
On the BrainCheck clinical report, percentile rankings provide insight into overall performance and for each domain, ranging from superior to very low. These rankings are derived using BrainCheck's normative database.
Domain impressions use scaled scores to give providers an indication of the likelihood of cognitive impairment: likely, possible, or unlikely. These impressions are also derived using BrainCheck's normative database.
Personalized Recommendations
The BrainCheck clinical report provides customized recommendations based on patients' scores. These recommendations can include cognitive care planning, further workup, referral to a specialist, and more.
"[With BrainCheck], not only can I track the overall scores, but I can track the individual components of those scores [for each cognitive domain]."
— Shere Catoe, DNP, APRN, ACNP-BC, PMHNP-BC, ACHPN
Many long-term health effects from COVID-19 have yet to be explained definitively, and cognitive impairment
Read More »
November is National Alzheimer's Awareness Month. The general public's perception of the disease is that
Read More »
Conventional cognitive assessments, whether as part of a routine wellness exam or measure of cognitive
Read More »
AFTER DIAGNOSIS, BRAINCHECK HELPS PROVIDERS PLAN COGNITIVE CARE.